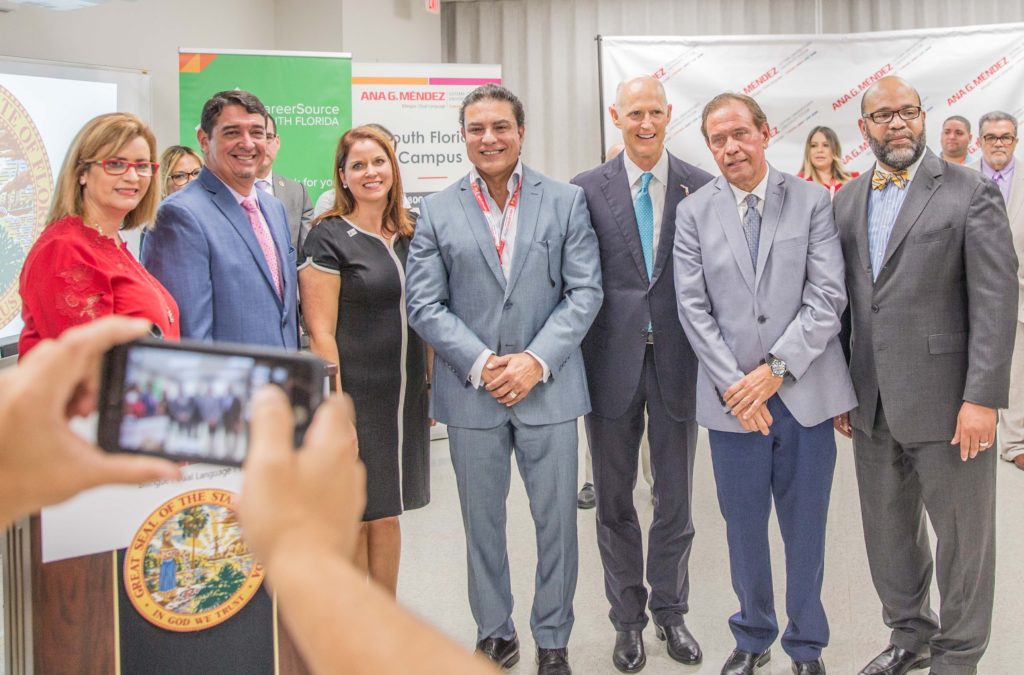 MIAMI LAKES, Fla. – Following a recently announced $1 million investment in Florida's workforce system to help Puerto Rican families displaced by Hurricane Maria find jobs, today, Governor Rick Scott announced a new job placement partnership between education, business and workforce development organizations. CareerSource South Florida, the Puerto Rican Chamber of Commerce of South Florida and the Ana G. Méndez University System will work together to connect families relocating from Puerto Rico with available job positions and provide needed job training. Today's announcement took place on the South Florida campus of the Ana G. Méndez University System, which has provided scholarships for more than 50 Puerto Rican students to continue their studies in Florida.
Governor Scott said, "This week, I visited Puerto Rico and assured everyone there that Florida will continue to help those displaced by Hurricane Maria in any way that we can. A large part of any family's success is the ability to find a good job. That is why I recently announced a $1 million investment into Florida's workforce system to help connect those displaced by Hurricane Maria with job opportunities in Florida. Our state currently has more than 260,000 job opportunities because of our focus on the economy, and this new partnership will make sure that every family has the ability to support themselves and get back on their feet."
DEO Executive Director Cissy Proctor said, "As Floridians, we understand the importance of returning to work after a natural disaster. DEO is proud to work with local CareerSource Florida workforce boards across the state to connect dislocated job seekers with job opportunities. We will continue to use these grants and all other resources we have available to help families impacted by Hurricane Maria return to work."
President of Ana G. Mendez University Jose F. Mendéz Mendéz said, "The Ana G. Mendéz University System feels honored to be part of this collaborative alliance. I appreciate Governor Scott's efforts and those of all who make it possible to fulfill his public policy of helping our people on the Island; particularly, for all the initiatives created for the thousands of families who have decided to turn Florida into their new home. Our learning centers in Florida, through our Dual Language Immersion Program, are the ideal place for the Hispanic community to acquire the necessary skills for the challenges that professionals face in today's business world."
CareerSource Florida President and CEO Michelle Dennard said, "The CareerSource Florida network shares the commitment of our business and education partners to help families impacted by Hurricane Maria rebuild their lives. We are grateful to Governor Scott for his leadership in providing all available resources to assist our neighbors, and we are excited to be part of this new initiative."
CareerSource South Florida Executive Director Rick Beasley said, "My team looks forward to working closely with the Puerto Rican Chamber of Commerce of South Florida to ensure the business community knows the wide range of skills job seekers who have relocated due to Hurricane Maria bring to our workforce. CareerSource South Florida also stands ready to assist Ana G. Mendez University students with finding job opportunities upon graduation."
President of the South Florida Puerto Rican Chamber of Commerce and Executive Director of the Dynamic Community Development Corporation Luis De Rosa said, "Governor Scott has been a champion for the people of Puerto Rico as they recover from Hurricane Maria, and the South Florida business community is working tirelessly to assist in these efforts. Joining forces with CareerSource South Florida and Ana G. Méndez University will extend our reach and our ability to help these families."
CareerSource South Florida and CareerSource Central Florida are continuing to provide employment services at Multi-Agency Resource Centers in the Orlando area and Miami International Airport to Puerto Rican families displaced by Hurricane Maria. Several local workforce development boards have held recruiting fairs and workshops to assist Floridians and others impacted by last year's hurricanes. For additional information about employment opportunities, please visit employflorida.com, available in English and Spanish.
# # #
About CareerSource Florida
CareerSource Florida is the statewide workforce policy and investment board of business and government leaders charged with guiding workforce development for the state of Florida. CareerSource Florida provides oversight and policy direction for talent development programs administered by the Department of Economic Opportunity, Florida's 24 local workforce development boards and their 100 career centers. Together, the CareerSource Florida network connects employers with qualified, skilled talent and Floridians with employment and career development opportunities to achieve economic prosperity. Learn more at careersourceflorida.com or 1-866-352-2345.