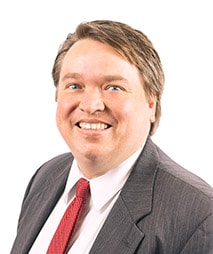 TALLAHASSEE, Fla. – During today's quarterly board meeting, CareerSource Florida President and CEO Michelle Dennard announced Gov. Rick Scott's recent designation of Kevin Doyle as chairman of the CareerSource Florida Board of Directors. Doyle is a founding partner of the Jacksonville-based consulting firm Wexford Strategies and a former deputy director of the Office of the 21st Century Workforce within the U.S. Dept. of Labor under Pres. George W. Bush. CareerSource Florida's 30-member board oversees workforce development policy and investment for the state of Florida.
A member of the CareerSource Florida Board for the past six years and a longtime resident of Jacksonville, Doyle succeeds outgoing Chairman Britt Sikes, who has directed the board since 2015.
"Governor Scott has chosen an experienced leader to advance our board's work in helping Floridians achieve prosperity and strengthening Florida's national reputation for workforce innovation," Sikes said. "Kevin's background as a small business owner and his extensive knowledge of state and federal workforce policy will be invaluable in supporting Florida's continued economic growth."
Doyle previously served in various leadership positions on the board, including Chairman of the Strategic Policy and Performance Council, member of the Executive Committee and Chair of the President and CEO Search Committee.
"Kevin's experience in business and workforce development, coupled with his policy background, perfectly positions him as a leader and asset to our board and many partners," said President and CEO Dennard. "I have had the honor of working with Kevin in several capacities over the years and applaud the Governor for appointing him to a role so critical to helping shape Florida's future."
Sikes chaired today's board meeting and will continue to serve on the board through the end of his term next month.
# # #
About CareerSource Florida
CareerSource Florida is the statewide workforce policy and investment board of business and government leaders charged with guiding workforce development for the state of Florida. CareerSource Florida provides oversight and policy direction for talent development programs administered by the Department of Economic Opportunity, Florida's 24 local workforce development boards and their 100 career centers. Together, the CareerSource Florida network connects employers with qualified, skilled talent and Floridians with employment and career development opportunities to achieve economic prosperity. Learn more at careersourceflorida.com or 1-866-352-2345.