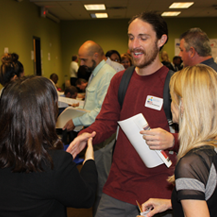 TALLAHASSEE, Fla. – Today, Governor Rick Scott and the Florida Department of Economic Opportunity (DEO) are proud to announce the official start of the 2017 Paychecks for Patriots events, which connect veterans with great careers in their communities. To celebrate Veterans Day this month, DEO is partnering with the CareerSource Florida network, the Florida National Guard, the Florida Department of Veterans' Affairs and participating Florida employers to hold job fairs for veterans and their families.
Governor Rick Scott said, "The annual Paychecks for Patriots events provide our brave veterans the opportunities they need to get great jobs in our state, and is one more way we are working to keep Florida the most military-friendly state in the nation. As a veteran myself, I urge all Florida job creators to participate in these important events, and we will continue to do all we can to recognize our military members and veterans for their service and sacrifice."
CareerSource Florida centers across the state will be hosting Paychecks for Patriots events Nov. 6-10, 2017, to help build connections between veteran jobseekers and Florida's job creators. The employers will include national companies, as well as many local employers. More than 1,800 military and veteran candidates and their family members who participated in prior Paychecks for Patriots events across the state have gained employment.
Florida Department of Economic Opportunity Executive Director Cissy Proctor said, "The Paychecks for Patriots hiring fairs help connect the hardworking people who served our country with the jobs they deserve. Veterans and their families have unique skills, and this career fair gives employers the chance to offer life-changing employment to these specialized candidates. These important events are held throughout the state and show that our local communities are committed to making Florida the most military- and veteran-friendly state in the nation."
The CareerSource Florida network includes more than 155 workforce professionals statewide, themselves veterans, who are dedicated specifically to assisting other veterans with finding employment year-round. These professionals include specialists who provide intensive services to meet the needs of veterans with service-related disabilities. The CareerSource Florida network helped more than 54,200 veterans with employment services this past year.
CareerSource Florida President and CEO Michelle Dennard said, "Our military veterans and their families make significant contributions to our communities through their talents, skills and dedication. The CareerSource Florida network is honored to serve those who served our country, and is gratified to have helped thousands of veterans secure employment this year."
Events will be held across Florida during the month of November. More details are available at www.floridajobs.org/paychecksforpatriots.
View Governor Scott's 2017 Paychecks for Patriots proclamation by clicking here.
###