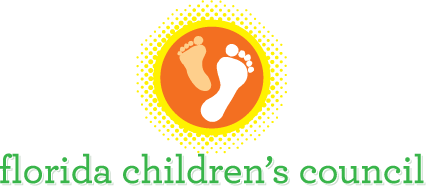 TALLAHASSEE, FL – Today, the Florida Children's Council released a statewide report that finds current policies adversely impact Florida's low-income families. With more than four million children and youth calling Florida home, and 45% of them living in economically struggling households, it is clear that many programs designed to help families become financially stable and self-sufficient fail to work. If children from low-income homes are to reach their full potential, there is a significant need to eliminate the current silos addressing adult-oriented and child-oriented programs separately. The report provides a roadmap of action to improve economic stability and child outcomes for families with young children in poverty.
"Positive child and youth outcomes, financial stability for families, and economic vitality for businesses are interrelated goals. There is clear need to rethink social service policy and align work-based solutions with child and family supports," said Dr. Brittany Birken, CEO of the Florida Children's Council. "These two-generational strategies provide a framework for developing systems that support strong child and youth outcomes within the context of family."
In Florida, many low-income households have working parents but they remain poor despite their efforts to progress toward economic prosperity. While accessing social services can provide needed financial supports for households, in many instances income eligibility requirements force parents to choose between wage increases and critical needs of children, such as child care. This reality has significant implications not only for the children and family, but employers and the economy.
"When we help parents connect with opportunities to increase economic stability, we improve the likelihood of future success for their children," said Michelle Dennard, President and CEO for CareerSource Florida. "We applaud the Florida Children's Council for its work to identify policy solutions to children's poverty that consider the larger family unit and the importance of creating pathways to prosperity for parents."
Nationally there is growing interest to address the sources of family adversity, which have the potential to promote long-term positive outcomes by producing positive changes in family income, environment, stress, and relationships. Research cites "cliff effects" as a particularly problematic disincentive associated with many work support policies. In essence, cliff effects penalize households financially for progressing beyond income thresholds of work support eligibility.
"There are systemic barriers that hinder a family's ability to become economically self-sufficient," said Cindy Arenberg Seltzer, Chair of the Florida Children's Council and Executive Director of the Children's Services Council of Broward County. "By strategically aligning systems of care, we can ensure that all children live in stable and nurturing environments."
The analysis identified three cliffs in Florida—children's health insurance, child care, and housing. Access to affordable child care stands out as perhaps the singularly most important social service in recognition of its impact on the entire family while providing clear economic benefit to employers and communities. In short, child care is an instrumental support to parents by reducing stress, achieving personal growth through education and training, and increasing critical skills and capabilities through education and training that lead to economic and family stability.
Quality child care, in particular the quality of the teacher-child interactions, has been consistently linked to positive developmental outcomes for children, including cognitive, language and literacy development, and core executive functioning skills such as communication, problem-solving and critical thinking. These are the foundational outcomes needed for academic and later career success. For children of low-income families, it has been well-documented that before there is an achievement gap, there is a "readiness" gap and the beneficial influences of quality child care are particularly strong for supporting kindergarten readiness.
"The two-generational framework aligns directly to the mission of Florida's Children and Youth Cabinet," said Wansley Walters, Chair of the Florida Children and Youth Cabinet. "This will greatly inform our commitment to cross-system collaboration and improved system alignment strategies that give our youngest citizens their best chance at success."
Families with young children in poverty have different household survival budgets needs than individuals in poverty. Reforming social services for families with young children is timely and necessary. Aligning social services such as workforce development and child care can create the opportunity for a pathway to prosperity.
"Florida is a vibrant and growing state that has its share of opportunities and challenges. To ensure that we secure paths to prosperity for all Floridians, especially the nearly one million kids living in poverty, we must focus on bold and broad strategies that consider two-generation approaches," said Tony Carvajal, Executive Vice President of the Florida Chamber Foundation. "Targeting policies that trap families in fiscal cliffs or create hurdles to self-sufficiency should be job one."
###
ABOUT THE FLORIDA CHILDREN'S COUNCIL
The Florida Children's Council is a non-profit organization leading businesses, agencies and other key stakeholders in work efforts that support Florida's children, youth and families. It serves as the statewide umbrella organization for the state's Children's Services Councils. By leveraging and enhancing the collective strengths of community impact, we promote statewide policies that build effective systems for Florida's children and families. www.FLChildrensCouncil.org
ABOUT CAREERSOURCE FLORIDA
CareerSource Florida provides oversight and policy direction for talent development programs administered by the Department of Economic Opportunity, Florida's 24 local workforce development boards and their 100 career centers. Together, the CareerSource Florida network connects employers with qualified, skilled talent and Floridians with employment and career development opportunities to achieve economic prosperity. Learn more at careersourceflorida.com or 1-866-352-2345.