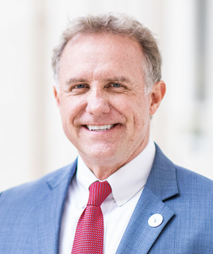 James Taylor
James Taylor is president and CEO of the Florida Technology Council and executive director of the Florida Technology Foundation. He has nearly 30 years' experience working with Florida education institutions and government agencies.
Taylor served as the technology industry representative for Governor Ron DeSantis' Reopen Florida Taskforce and the Cybersecurity and Electromagnetic Pulse Legislative Work Group in the Florida House of Representatives. He currently sits on the Florida State University GAP Proposal Review Committee, the North Florida Innovation Labs Advisory Panel for Innovation Park and the Govtech CIO Academy and Digital Summit advisory boards.
Taylor is the visionary behind Florida's annual Tech Day at the Capitol™, the Florida CIO Mentorship Program, the FTC State Advisory Workgroup and is a recipient of Government Technology's National Top 25 Doers, Dreamers and Drivers Award for individuals using advancements in technology to improve state government.
He studied business at Kalamazoo Valley Community College and Michigan State University. Taylor lives in Tallahassee.