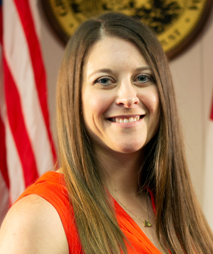 Adrienne Johnston
Adrienne Johnston serves as deputy secretary of the Department of Economic Opportunity's Division of Workforce Services. Previously, Johnston served as Chief of the Bureau of Workforce Statistics and Economic Research where her extensive experience in Labor Market Information allowed her to lead the Workforce Statistics and Economic Research team to deliver quality data analysis, informative data visualizations and applied research to better serve the agency and stakeholders across the state. During her tenure in the Bureau, Johnston expanded the role of Workforce Statistics and Economic Research to provide effective analytics for the entire agency.
Prior to joining DEO, Johnston served as project manager for Evergreen Solutions where she analyzed local labor markets and developed custom compensation and benefits plans for community colleges and local government organizations. Previously, she served as Labor Market Research Director for Brandt Information Services where she expanded the service portfolio of the unit beyond data collection to include data visualization tools, survey design, and data analysis.
Johnston holds a master's degree from Florida State University. She lives in Tallahassee.